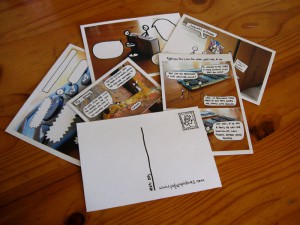 Pack of 5 postcards of popular comics, two with blank speech bubbles so you can doodle:
PayPal
Bitcoin payment
UK: 0.08 bitcoins
Outside UK: 0.09 bitcoins
Send payment to 1Fb29nsiGRacSvNaV9TKCjPwGj572Zyj5Q and email me at lotte DOT lodge AT gmail DOT com.
Ethics etc
Printed on recycled card by truly excellent workers' co-op Footprint. They're all kinds of queer-friendly, too. Wrapped and posted in reclaimed materials.