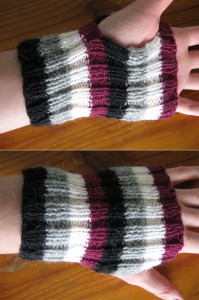 As you may know, we're properly ensconced in Ace Awareness Week. I am excited to be auctioning off these handwarmers; half the resulting fee goes to me up to the usual cost of handwarmers, which is £15, and the rest goes to the Ace Awareness folk. (Please note, you'll also be charged postage from the UK; I'm happy to send these worldwide.)
Predictably, the gloves are 25% nylon and 75% superwash wool, and they should fit all but the hugest of hands. I don't smoke but I do have a cat.
So! Bids in the comments, please, people! Starting at… GBP£0.05p? Or something? Bidding ends at 11:59pm on Saturday, GMT. Thanks!
EDIT: Closed. 😀 Thank you, everyone – that's £12 for the Ace Awareness folk.