Oh my goodness, I broke Poly in Pictures.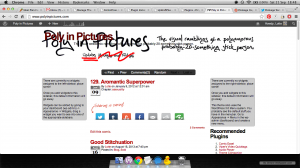 I mean, not directly. My WordPress/coding/technological/non-hunter-gatherer knowledge is not vast. Keeping the site going at all on such a complaint-prone host was struggle enough, and then there was An Update. Every time the blog tells me it has an update, I freak out a little bit because I know it's just a matter of time until an update on such a temperamental host causes something to break and I don't know how to mend it.
This day came a week ago, and I panicked, and the most excellent Sausage came to my rescue and made everything sensible again. I would totally recommend him as a tip-top website person. Even if you don't need a website you should hire him anyway. He is magic.
So we are back on a new webhost, with a new comic-plugin thingy, and today's comic is heavily inspired by a silly tweet I read a while back.
There are most likely some kinks (hurrr) still to iron out, so if you spot any it'd be very helpful if you could let me know somehow; my email address is lotte DOT lodge AT gmail DOT com.