This morning Andréa of Nat and Nat published my guest comic, and I'm really proud of it! It was fun to try out new styles a little bit to change how the comic looks in quite a drastic way, while still holding onto my favourite techniques. 🙂
Here it is, and you can see it here on Nat and Nat!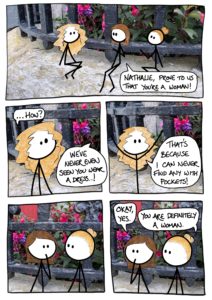 Big love to Lyrania, Martina, Lorelei and all my excellent patrons. <3 I could do it without you, but it WOULD BE RUBBISH.
If anyone would like in on Behind the Scenes ($2 per comic), the comic file with all the layers ($4), or even just a picture of my cat at the time of the comic upload ($1), please do come check out the Patreon!