The Annual Nonbinary/Genderqueer Stats Survey Needs YOUR HELP!
I'm sure a few of you are aware of Nonbinary Stats, an annual survey that I run to find out how us nonbinary people describe ourselves, which pronouns and titles we identify with, etc.
The number of people taking part is up to a little over 3,000 now, and it's getting bigger year on year. I've been using Google Forms, which is free and in many ways great, but also very limited. It is a lot of work for me to process the results, the form itself is pretty limited, and the data I can get out of it is pretty basic.
So I'm running a crowdfund to raise the £300 needed for a SurveyMonkey subscription that meets my needs, which I hope will enable a better survey experience and more interesting results for you, and an easier and more comfortable processing and write-up process for me.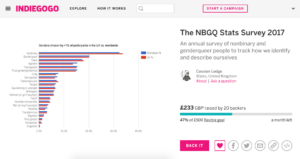 We're 71% down with only £97 left to go, and if you'd consider helping out somehow I'd be the happiest ever! Here's some things you can do:
Donate! You can choose to be credited in the final report or remain anonymous.
Reblog this post on Tumblr.
Retweet this tweet on Twitter.
Check out this post on /r/nonbinary, and upvote if you are so inclined.
Share the link with nonbinary folks in some other way! Facebook groups, mailing lists, at LGBT+ groups AFK… Here it is: https://igg.me/at/NBGQ2017/x/258999
I know this isn't strictly PiP-related, but I make comics about genderthings fairly often and I'm surrrrre a fair few of you are probably transgender and/or nonbinary, so I reckon there must be people here who're interested!
Thank you for your time and attention. 🙂