Hello. 🙂
I have made some Poly in Pictures stickers for the wonderful IM app Telegram.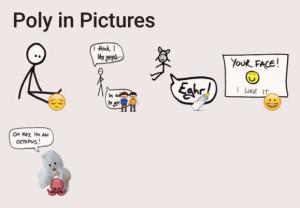 The collection is small so far, but I am adding stickers as requested. So if you want me to add anything, you can contact me on Telegram (cassolotl) with a comic URL and the details of the sticker you'd like, and I will sort it out when I'm next looking at Photoshop. 🙂
Edit: There is now a Telegram channel to let you know about updates to the sticker set.