Edit: Claimed by Ryn, who cannot donate, so donations to cover postage and materials still much appreciated.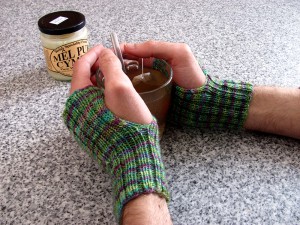 I made some more, and they are basically identical to the last ones but about 1.5cm longer at the wrist-end, so I am going to copy and paste the info from the other page, thusly.
These handwarmers are 75% wool, 25% nylon for strength. They're machine-washable. For yarny types, I used dkKnits technicolor dream toes hand-dyed sock yarn. The colours are a little warmer than the photo because I don't know how to use a camera; they remind me a bit of the Fruit Salad chewy sweets of my yoof, hence the post name, but these are a lot more greener than the sweets were. I'm not cut out for this description/naming thing.
They were made in a pet-free, smoke-free environment.
The yarn cost me about £2. They took me about 7 hours to make (minimum wage in the UK is £6.19). Postage will cost me up to £2, depending on where in the world you are.
If you would like these handwarmers, you should do two things:
Leave a comment.
Send me an email with your full address (no country restrictions) to lotte DOT lodge AT gmail DOT com.
I will happily send the handwarmers to you even if you don't give me any money.
If you'd like to help contribute to the running of Poly in Pictures, the making/sending of these handwarmers for someone you've probably never met, and also my life, please feel free to donate using the button to the top right of each page.
Thank you for your time. 🙂