Hellu thar.
Would anyone like to buy these interesting envelopes?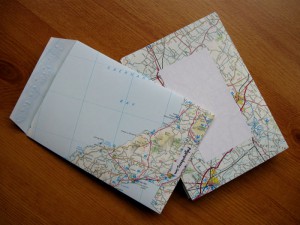 I've made two sets; one set is made from thicker paper. They're made from ancient OS maps, featuring such glamorous locations as Mid-Wales and Manchester, and are standard C6 size, ie: fold A4 in half twice, 114 x 162mm
They'll be wrapped in reclaimed plastic. The printing is done with refilled printer cartridges, using renewable electricity, and all labels are 100% recycled paper.
Money goes toward buying a camera with all the buttons still attached.
Edit: Nope. 🙂