YOU GUISE!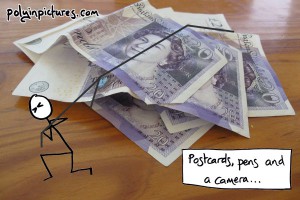 I'm a bit excited. I've finally got off my bum and decided to raise some money for getting a print run of 5 comics as postcards. (Everyone knows if the link is longer it's more likely to be clicked, yes?) They will be awesome, glorious and too beautiful for words. Angels will weep at their sharp yet elegant print quality.
Incentives (ie: presents) start at $6 donations, or about £4. At the top end, you can have a custom comic made and printed in a custom comic book of 12, signed, plus some postcards.
While I'm at it, I've also decided to raise money for a camera that doesn't eat batteries and has all the buttons.
The most valuable thing you can do, aside from giving me lots of money, is telling lots of people about this. Please spam your friends, and then blame me, so that they don't unfriend you.
Thank you.